Developing multifaceted asset experiences
Our collaboration with Agoric started at a hackathon, where we focussed on semi-fungible tokens. With the growing maturity of the platform, we have kickstarted a larger collaboration — we're developing KREAd.app. A character builder dApp(decentralized application) that allows users to create their own avatars and equips them with items, such as themed masks. Because we can't stop exploring the limits of our field, we've centred the project around making the NFTs composable. The architecture of KREAd.app is allowing a more multifaceted experience of smart assets, giving users the freedom of composing characters as they wish.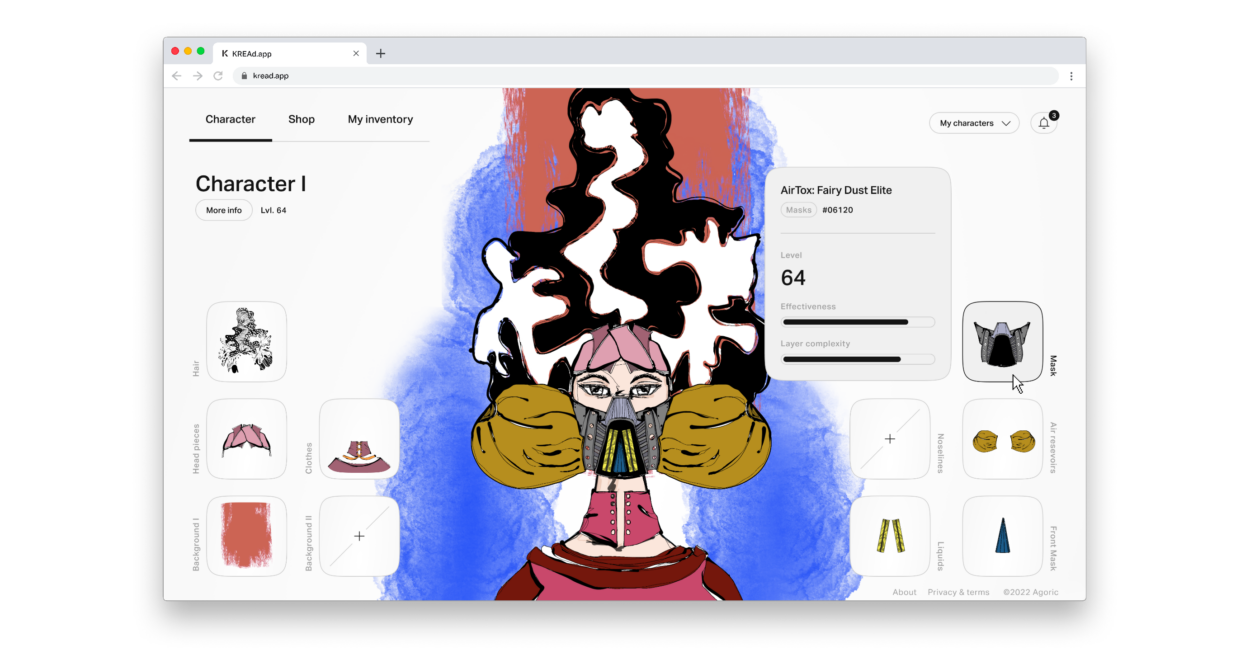 An educational project by developers, for developers
In November 2021, Agoric launched the first part of their mainnet rollout. Since then, they've been working strategically on making more people adopt their platform — a challenge we're more than happy to assist them in! Our approach to this challenge is community-based, contributing with a bit of our DNA to the Creator Economy. This is why the KREAd.app will also serve as a basis for an educational project, teaching developers how to architect and build applications on Agoric. We want everyone to participate in building groundbreaking applications.
The Kryha team has shown exceptional skill in navigating Web3 use cases and applying a disciplined approach. They were one of the earliest development teams on the Agoric alpha and we are excited to see what they bring to mainnet.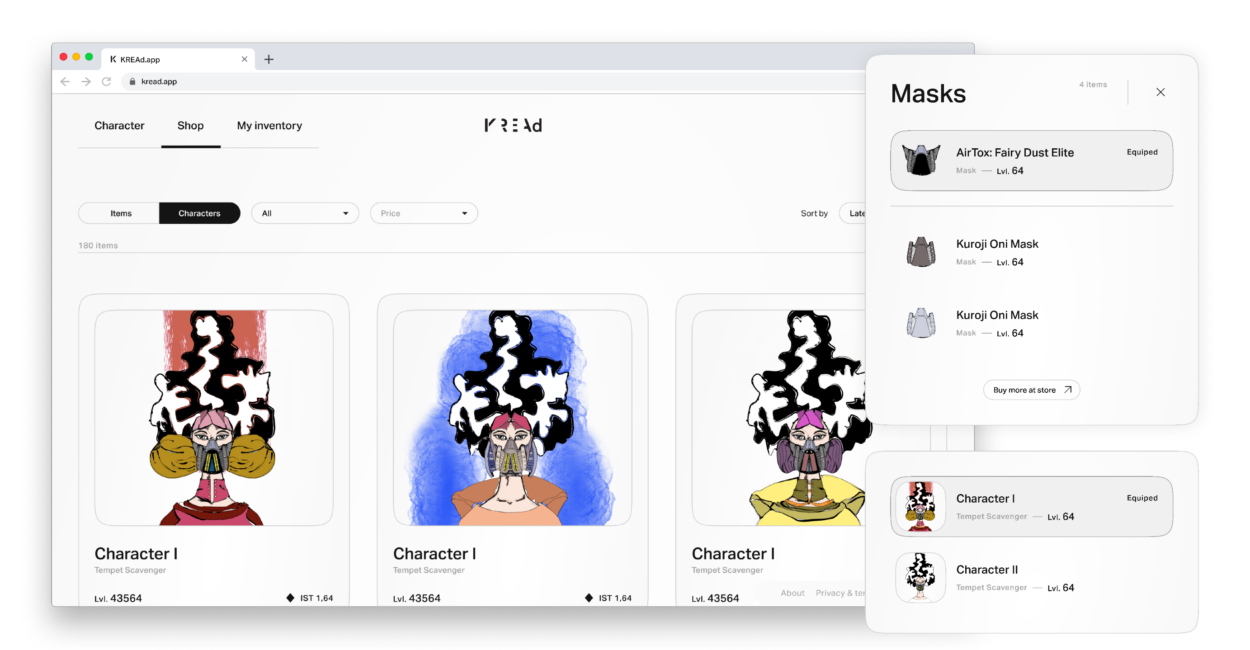 Tech-talk about the Agoric contracts
KREAd.app is using the full suite of Agoric to implement NFT composability. The NFTs are all still valid ERTP (Electronic Rights Transfer Protocol) tokens, the native implementations of Fungible, non-fungible, and even semi-fungible tokens on Agoric. This allows any smart contract utilising the implementation of ERTP to interact with them. Including the ability to transfer with Offer Safety using Zoe, to make sure users get what they expect, or get their assets returned.
The composability of the dApp is achieved by using seats. Which are in their essence two faceted long-lasting offers. Each character will have its own seat on our contract, acting as a vault to securely hold its equipped items. A character's seat can only be accessed by the owner of the character NFT itself, making sure that only the owner can equip or unequip items.
This implementation allows for all NFT (characters and items) trades to be safely transferred with Offer Safety. The new owner is also guaranteed access to the inventory of the character since the purchased character NFT is the only way to access it.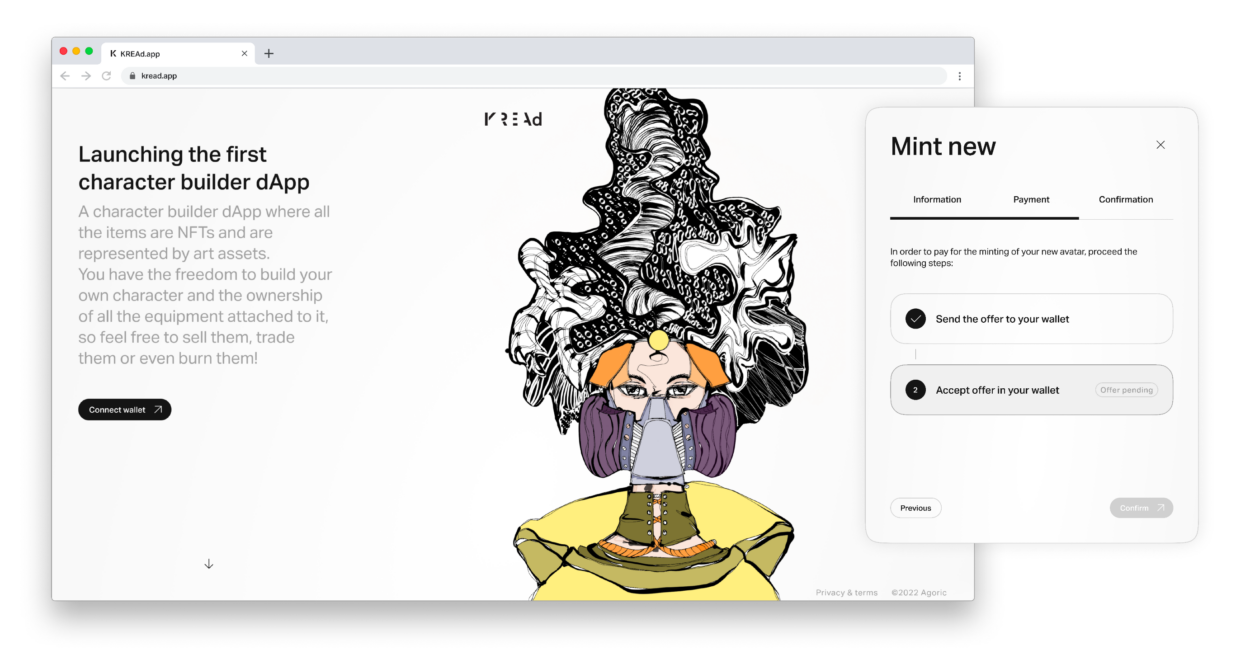 Hold your breath — exciting things are yet to come
The application is under heavy development and will soon be live for Agoric users to play with. The launch of the application will coincide with the launch of Agoric mainnet phase 2, making KREAd.app one of the first applications on the ledger. Are you as excited as we are? Then stay tuned for the big release!